Current Sabbath School Lesson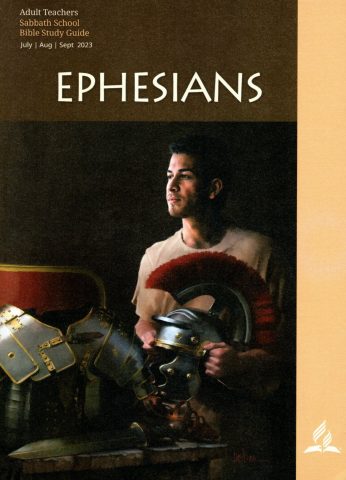 The adult Sabbath School lessons are prepared by the General Conference of Seventh-day Adventists, usually by one of the scholars or theologians of the church.  These lessons are published in the Adult Sabbath School Bible Study Guide which is published quarterly and provided free to each recipient.  To study online, click the link in the previous sentence.
This quarter our Study Guide is entitled "Ephesians."  The apostle Paul, writer of this letter, visited Ephesus toward the end of his second missionary journey and spent three years there during his third missionary journey.  He writes this letter from prison to encourage the disciples in Ephesus to be faithful to their high calling.  "Because the Christian faith is all about Christ, Paul radiates admiration and worship of Him.  If timid Christian disciples are to regain their footing, it will be because they recapture their first love for Jesus and establish fresh trust in His grace and power.  So Paul highlights Christ's exaltation in heaven above all the powers and deities that seek to attract the devotion of believers in Ephesus.  Jesus is the goal of the divine plan for the ages, a plan in which believers, as the church, play an important role in God's plan to unify all things in Christ."  (Current Quarterly, p 2) 
Join us this quarter as we study together this encouraging and uplifting letter that points us back to Jesus and the privilege we have to be part of His church.